Email marketing has been identified as one of the most effective content marketing channels a company can invest in. For Bitcoin startups, this can pose a challenge as some email marketing companies, such as Mailchimp, have decided to ban cryptocurrency-related companies from accessing their services.
In this list, we feature seven email marketing software services that your Bitcoin business can use to boost your content marketing efforts.
Why is Email Marketing A Must-Have for Bitcoin Businesses?
Email marketing is a direct line to your (potential) customers that can help you to build relationships with your audience.
With a best-execution email marketing communication flow, you can inform users about company updates, educate your user base, and convert prospects into customers. People who are interested in your product or service can join your email list and – through email marketing – learn everything they need to know to make an informed buying decision.
If you build an email list with your target audience, email marketing could become a significant revenue stream for your business.
Top Email Marketing Platforms
1.Sendx
At the top of our list is Sendx.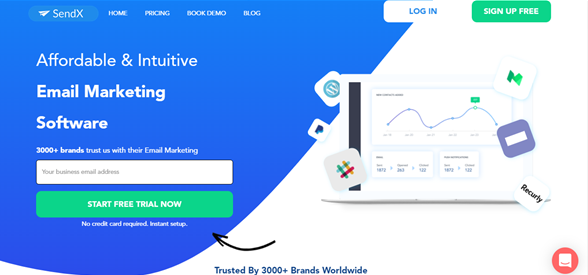 SendX is an email marketing service provider that helps businesses grow their revenue using email marketing.
The email marketing software users can send unlimited email campaigns, build email lists, design subscription forms, summate advanced email sequences, and access reports to measure important metrics such as conversions.
Sendx stands out because it supports cryptocurrency because it believes in the tremendous potential the industry has. They have also explicitly stated on their website that they don't agree with policies that ban Bitcoin startups.
Pricing
Pricing depends on the number of subscribers and ranges from $99.9/month (1-1000 subscribers) to $2,249.99/month (1,000,000 subscribers)
2. GetResponse

GetResponse helps entrepreneurs build targeted subscriber lists and send high-impact newsletters.
The company offers marketing automation, responsive email design, hundreds of ready-to-use email templates, a landing page creator, and useful statistical analysis tools. You can also send video emails and follow-up campaigns.
With a global reach of more than 350,000 customers in 183 countries and 27 languages, GetResponse promises a seamless experience and timely delivery. It has a dedicated team that provides high-quality customer support in case of any issues that may arise while using its products.
Pricing
Basic – from $10.50/month
Plus – from $34.30/month
Professional – from $69.30/month
3. AWeber
AWeber's mission is to deliver powerfully simple email marketing software for small businesses.
The software does 90% of the work for your company through its customizable templates and analytical tools, leaving you the last 10% to have fun with the email process.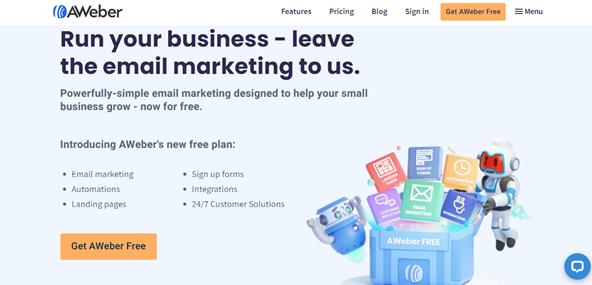 Some of the email marketing tools that you can access with Aweber include email automation, customer segmentation, pre-built email templates, and moving your email services from any email subscription service you use to theirs.
Pricing plans:
Between $9.99/month to $149.99/month, depending on your number of subscribers.
4. Email Octopus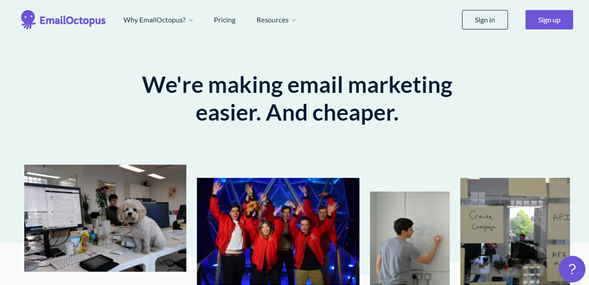 EmailOctopus was founded in 2014 to help anyone with an audience grow. Its mission is to provide email marketing that's simpler, more intuitive, and of better value.
The company has ready email templates that make your work easier. You can also schedule your emails and email campaigns using their software and analyze the results to help you understand how to make your future email marketing efforts work.
One of the things that make this service provider stand out is that they have a 'Doing Good' policy. Through this policy, they are committed to building an ethical and sustainable company that gives back to their customers, team, and community.
Pricing
From free to $1,010 per month, depending on the number of subscribers.
5. Sendpulse
SendPulse is a multichannel marketing platform that combines bulk email campaigns, SMS, web push notifications, and chatbots for messengers.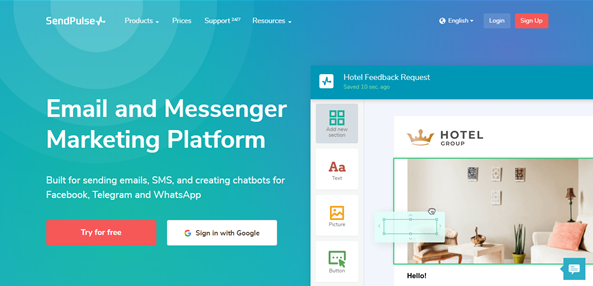 The company's primary goal is to simplify things for marketers and business owners. They teach them two how to grow their business with the help of email campaigns and other communication channels.
Through SendPulse, you can segment your audiences, resend unopened emails, automate your emails, and easily create professional email templates without needing to have technical skills or HTML knowledge.
Pricing
Free plan – $0
Standard plan – from $6.4/month
Pro plan – from $7.68/month
Enterprise plan – from $10.75/month
6. Keap (formerly Infusionsoft)
Keap seeks to empower entrepreneurs by simplifying growth.
The company created the first all-in-one CRM, sales, and marketing automation platform built specifically for growth-minded entrepreneurs. Through automation, they make what took hours to only take minutes.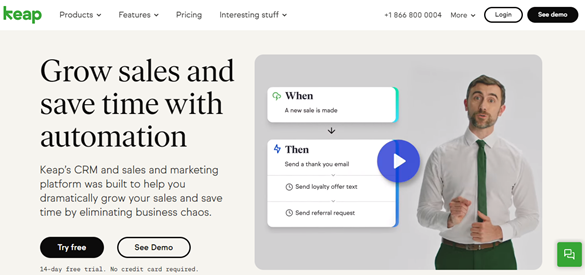 As an email marketing service provider, Keap enables you to access customizable email templates, automate your emails, observe trends through their analytic tools and carry out A/B testing to show which emails have a greater reach and impact on your customers.
Pricing
Lite* – from $79/month
Pro* – from $112/month
Max* – from $140/month
*These prices are inclusive of other CRM tools
7. Sendinblue
If you are looking for an email marketing service provider that also has tools that you can use across other marketing channels, Sendinblue is the right solution for you.
The company promises to help you build a connection with your customers through services such as email marketing, chat, and bulk SMS.
The Sendinblue email marketing service is designed to help you customize your emails, personalize the emails to suit your different audiences, and, automate your emailing schedule.
To learn more about Sendinblue, head over to their website.
Pricing
Free – $0
Lite – $25
Premium – $65
Enterprise – Price on request
If you would like help with your bitcoin emailing marketing campaign, reach out to us, and we'll help you out!