For Bitcoiners by Bitcoiners
Social Media Marketing for Bitcoin Companies
There's no doubt that your Bitcoin company should have a strong presence on social media.
After all, we all hang out on Bitcoin Twitter.
Social media is where most Bitcoiners spend their time, and it's one of the best ways to build a strong following and a loyal community.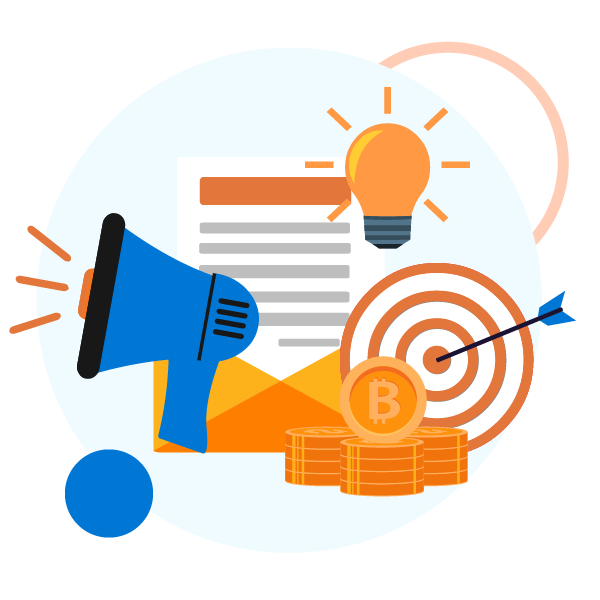 What can social media do for your Bitcoin startup?
Our social media strategy and content will:
What does our social media marketing service involve?
Below, we've outlined what we can do as part of our service.
Before we start anything, we'll start with your new social media strategy.
This is where we decide what platforms to use, what kind of content to publish, and how we'll use social media to help you reach your goals. 
We'll create a report and send this over to you with our recommendations, and once approved, we can get to work. 
Social media content creation
Next, we'll start to create your content. We'll write the copy AND create the imagery for you – there's nothing you'll need to do but approve the content. 
This content will reflect your brand, build awareness, and encourage engagement. 
We'll also engage with your social media content using our own social media accounts to boost your reach.
Our aim is to deliver you more leads and website traffic from social media.
At Rise Up Media, everything we do is measurable.
To measure the performance of our social media, we look at the increase in followers, the amount of engagement, and the website traffic that comes from social media.
Social Media Marketing Process
Step 1

Book a call with us to discuss the project.
Step 2

We send you a proposal based on what your business needs.
Step 3

We'll create your social media strategy.
Step 4

We start to write your social media content and design imagery.
Step 5

We upload all social media posts to our shared social media management platform for you to approve.