For Bitcoiners by Bitcoiners
Content Creation for Bitcoin Companies
The Bitcoin industry is competitive and getting found online is not always easy. Especially without a plan.  
One of the best ways to get found online is by using a clever combination of content and SEO. 
Put simply, if you create outstanding content, it will help you rank higher on search engines, attract new website visitors and position you as THE trusted Bitcoin company in your sector.
The only problem is… how can you find the time or talent to do this properly?
That's where we come in.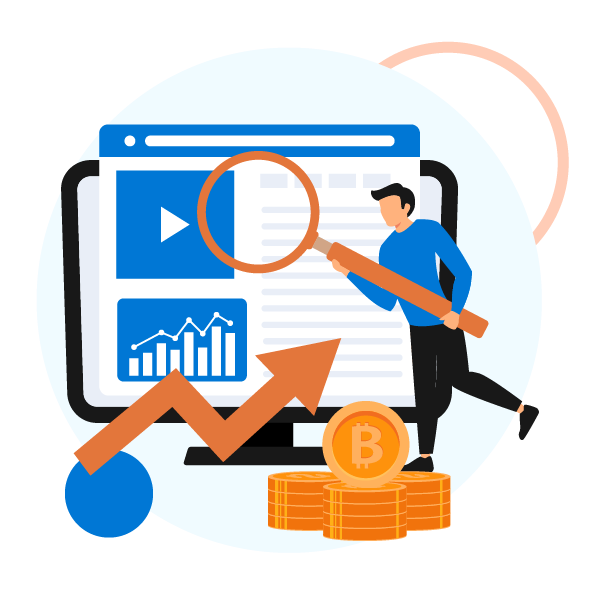 What can our content do for your Bitcoin company?
At Rise Up Media, we create outstanding content. 
Content that will: 
Our Content Writing Service
Below, we've outlined what we can do as part of our service.
Website Analysis and Content Audit
We start by doing a website analysis and provide detailed recommendations on how you can increase visibility online.  
We'll also take a look at your content to see what you're currently doing and identify opportunities to create more outstanding content that speaks to your audience directly.
Next, we'll start our in-depth keyword research and competitor analysis. This is where we dive into exactly what your target audience are searching for online. 
We'll then create your content plan. This plan will help us map out exactly what we're going to do for the next few months. 
This is the action plan that will enable us to get higher search engine rankings, more leads and customers.
Write Content That Converts
The fun part.
We'll create outstanding content that helps you stand out. 
Content that's not only search engine friendly, but really engages your audience and delivers you leads. 
At Rise Up Media, everything we do is measurable, and you can clearly see the results. 

To measure the performance of our content & SEO efforts, we look at the number of ranking keywords, the number of referring domains, and website traffic as our main SEO metrics. 
The more keywords the website ranks for, the more targeted organic traffic it will attract. 
If you feel comfortable adding us to Google Analytics and adding UTM tracking codes to CTA buttons within the published content, we can also track the traffic and conversion of each piece of content to gain more granular insight into content performance.
Step 1

Book a call with us to discuss the project.
Step 2

We send you a proposal based on what your business needs.
Step 3

We start with your website audit and keyword research.
Step 4

We send you the content action plan which is agreed by you.
Step 5

We write value-packed content that your audience loves (and that ranks on search engines).