For Bitcoiners by Bitcoiners
Bitcoin Backlink Building
If you want to become an authority in the Bitcoin space, then you need to build trust in the market.
Content will help you get there, but there is one thing that can take your authority (and rankings) to the moon.
High-quality backlinks from reputable websites.
Link building is one of the most effective ways to show search engines that your website is a trusted voice in the Bitcoin industry.
But only if you have a plan…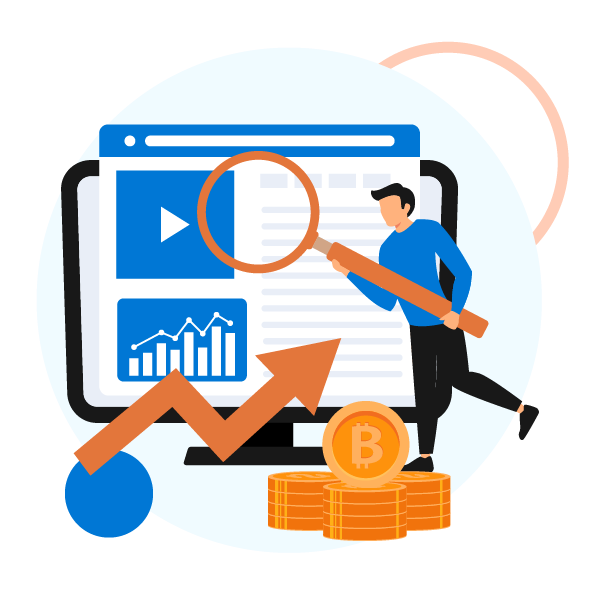 What can our link building do for your Bitcoin company?
At Rise Up Media, we get results. 
Our link-building campaign will help you: 
Our Link Building Service
Below, we've outlined what we do as part of our service.
We start by reviewing the links you already have and how they've been built.
Using this data, we can identify any gaps that need to be filled and links that need to be built.
We'll do a deep dive into your closest competitors and look for any opportunities to outperform them.
Through this research, we'll be able to see which websites are linking to them and how effective those links are.
Once we know more about your competitors, we'll put together a link building plan that's guaranteed to increase your authority in the market and build trust with search engines along the way.
This plan will focus on building high-quality links that get results sooner rather than later.
Each month, we'll build a number of links back to your website using a variety of link building methods.
We can target ultra-specific keywords, and we'll also gain rankings for additional keywords you might not have considered before.
At Rise Up Media, everything we do is measurable, and you can clearly see the results. 

To measure the performance of our content & SEO efforts, we look at the number of ranking keywords, the number of referring domains, and website traffic as our main SEO metrics. 
The more keywords the website ranks for, the more targeted organic traffic it will attract. 
If you feel comfortable adding us to Google Analytics and adding UTM tracking codes to CTA buttons within the published content, we can also track the traffic and conversion of each piece of content to gain more granular insight into content performance.
Step 1

Book a call with us to discuss the project.
Step 2

We send you a proposal based on what your business needs.
Step 3

We start with a backlink and competitor audit.
Step 4

We build high quality links that take your rankings to the moon.
Step 5

We keep you updated as and when we have new links published.