For Bitcoiners by Bitcoiners
Email Marketing for Bitcoin Companies
Email Content & Management
Standing out online is not easy, especially in the Bitcoin industry. There's so much competition that it can be difficult to reach your audience and keep them engaged. 
Email marketing can help.  
Email is still one of the most powerful tools in your arsenal… if used correctly.
Email marketing continues to outperform social media and is proven to drive more traffic, leads, and sales over the long term.
When you combine valuable content with regular emails, you have the power to build a user base that trusts you.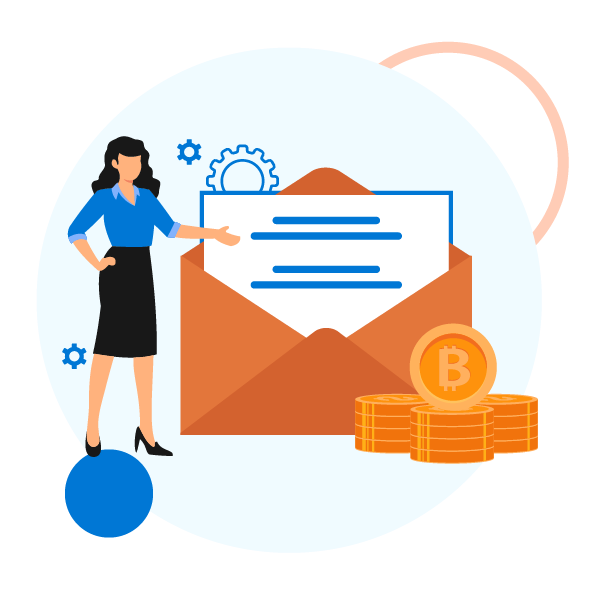 How our email content can help
At Rise Up Media, we create outstanding email content. 
Content that will help you to: 
Our Email Marketing Service
Below, we've outlined what we can do as part of our service
Analysis your current email marketing
If you already do email marketing, we can audit your current setup and content, and help you understand what's working and what isn't.
Plan your email campaign from start to finish
Whatever your business goals are, email marketing can help. We can plan and create specific email marketing campaigns to help you drive traffic and get more sales. 
Create email content for all your new content
Once we have written your new amazing blog content, we will then craft a number of emails you can send to your subscribers.
These emails will help peak your audiences' interest and drive more subscribers back to your website.
At Rise Up Media, everything we do is measurable, and you can clearly see the results.
To measure the performance of email marketing, we look at the following key metrics.
• The number of new email subscribers you're attracting.
• The open rate (although it's not as accurate anymore).
• The click-through rate from emails.
• The traffic on your website following an email being sent.
You can also send us these stats each month and we can advise you what we can do to improve it.
Email marketing is never done and will need constant tweaks and improvements over time.
We'll be with you every step of the way!
Step 1

Book a call with us to discuss the project.
Step 2

We send you a proposal based on what your business needs.
Step 3

We study your brand's voice and language.
Step 4

We send you the email content plan that you approve.
Step 5

We write value-packed content that converts subscribers into customers.