1. Hubspot Content Marketing Courses

HubSpot provides software products for inbound marketing, sales, and customer service. The company can help you with customer relationship management, social media marketing, content management, lead generation, and more.
One of the most valuable products they have developed is the educational courses on content marketing. This range of courses covers various topics, such as content marketing, SEO, email marketing, social media marketing, and more.
To see their selection of courses, including their most popular one on Content Marketing, visit their online academy.
Price: Free
2. Coursera and University of California – The Strategy of Content Marketing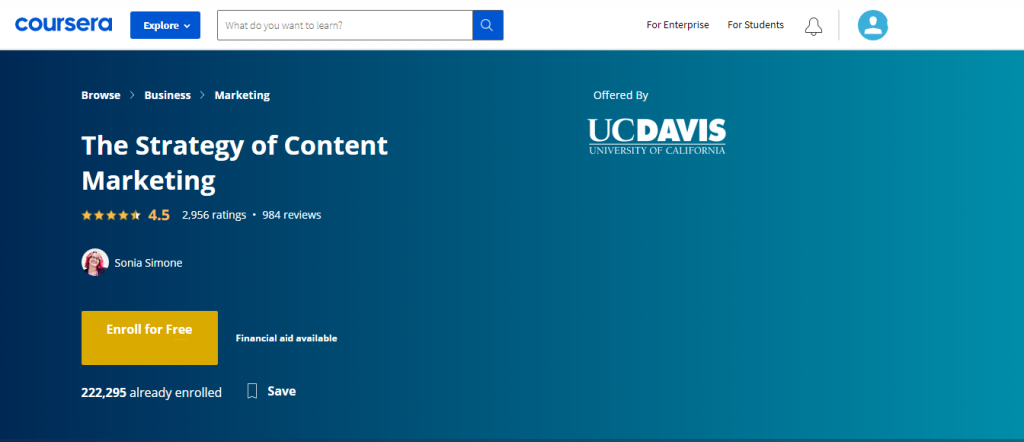 Coursera is an online education platform that provides massive open online courses (MOOCs). The company partners with high-ranking universities and companies around the world.
One of the courses they offer is "The Strategy of Content Marketing," which is taught through a partnership between Copyblogger, a leading content marketing authority, and the University of California.  
This course teaches core strategies that content marketers use to acquire and retain customers. By taking the course, you will learn various skills, ranging from developing, organizing, and implementing a content marketing strategy. You will also learn about using a strategic framework when writing and building your professional brand through content marketing.
For this online course, Coursera has a mixed model of payment. You can access all the course materials for free, but for you to get a certification of completion, you will be expected to pay a fee of 49 USD. To access this and other courses, head over to the Coursera website.
Price: 49 USD (for the certificate of completion – financial aid is available)
3. SEM Rush – SEM Content Marketing Toolkit Course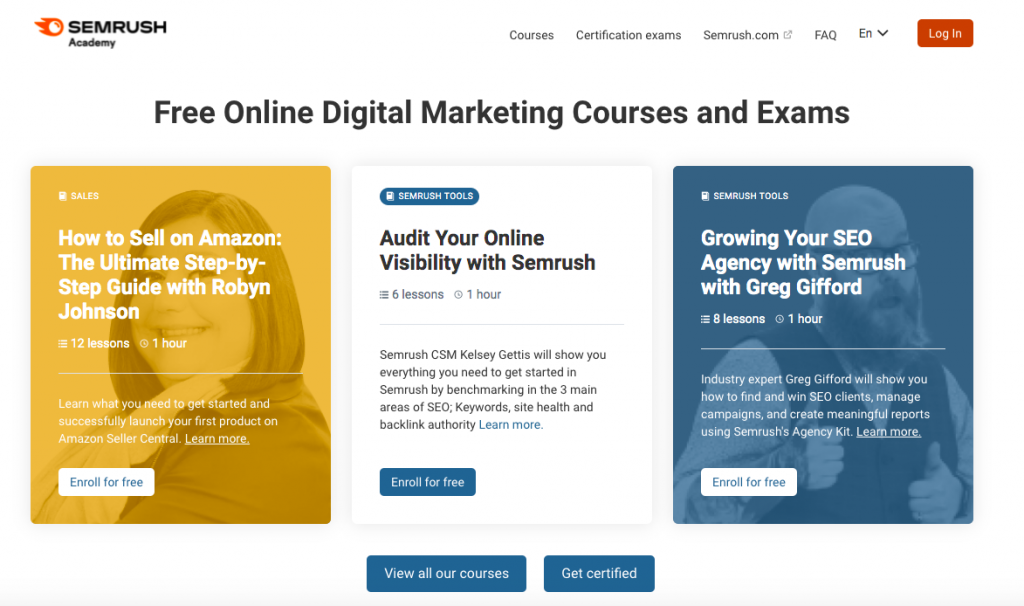 SEM Rush is a subscription-based marketing suite that consists of more than 50 products and tools. These tools have been created to help companies market better online.
The SEM Rush products and services focus on search engine optimization (SEO), content marketing, competitor research, and social media marketing.
Furthermore, SEM offers a free, comprehensive online course known as the SEM Content Marketing Toolkit Course. Through this course, you will learn introductory content marketing skills and how you can get the best out of the SEM Rush platform.
Price: Free
4. LinkedIn Learning Courses

LinkedIn Learning is an online learning platform with on-demand, video-based content. The platform offers more than 16,000 courses, 9,000 of which are in English. Each is broken down into multiple short videos with specific learning goals. For professional and aspiring content marketers, there are numerous courses, such as Marketing Strategies for Instagram, where you can watch a five-minute video on how to develop a posting schedule for the social media platform.
The LinkedIn courses are subscription-based, with an option of free access to their content for a period of one month. 
To learn about their courses and look into what is suitable for you, visit LinkedIn Learning. 
Price: 29.99 USD per month (With unlimited access to various courses)
5. Google Digital Garage Courses

The Google Digital Garage is a non-profit project that aims to provide free training to everyone who wants to add digital skills to their arsenal. Training programs are carried out using an online learning platform with an official completion certificate for users who finish a course.
These free training programs/courses cover a wide range of topics, from learning how to optimize any site for search to running paid ads on Google and more.
You can access the courses by visiting their website.
Price: Free
6. The Traffic Think Tank Courses
Traffic Think Tank (TTT) is an online platform that offers courses on content creation, marketing, and distribution. It stands out from the crowd because it has an active community space for learners to interact and share ideas. 
The platform's courses touch on topics such as link building, international SEO, and how to acquire a website successfully. Other courses are also made available through the platform's subscription-based Academy. 
Price: 99 USD monthly subscription 
7. Content Strategy Course at CXL Institute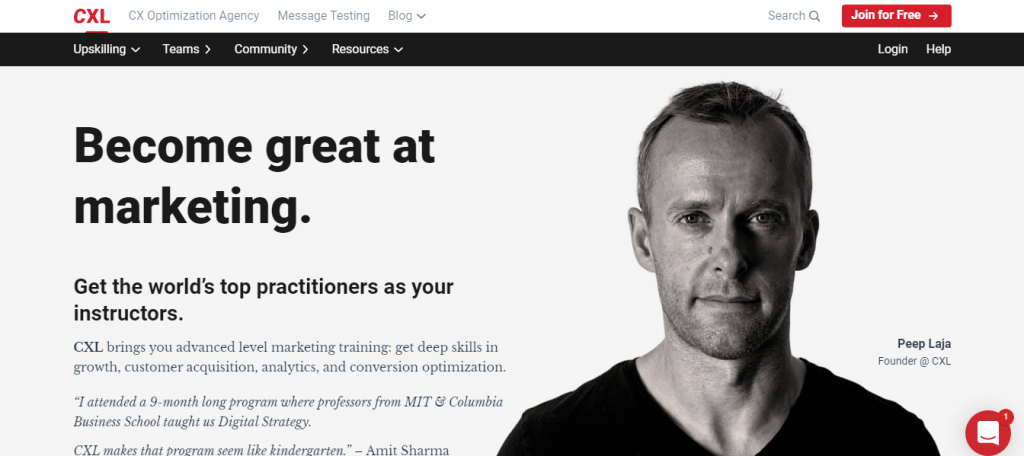 The Content Strategy Course is a six-hour online course by the CXL Institute, a platform that offers 'mini-degrees' on all things marketing. This Course touches on various content marketing topics, such as researching key phrases, optimizing content, and maximizing email growth lists. You will also learn how to find and collaborate with relevant influencers. 
To learn more about the course, visit the CXL Institute website.
Price:  A 1,299 USD yearly subscription with unlimited access to various courses.
To learn how Rise Up Media can help you with your content marketing needs, contact us.